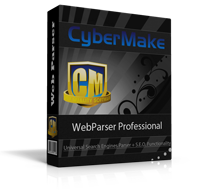 WebParser - SEO tools for Scraping web data, Backlink builder, High pr backlinks from Google, BackLinks Generation and more...
Have you been on a wild goose chase for websites and spent exorbitant amount of money? Are you tired of figuring out the functionality of your web parser? Are you in need for a simple interface? Do you have to wait all eternity to get your results delivered to you?
backlinks google
WebParser SEO tool from CyberMake is the answer to all your concerns. WebParser - backlink builder sowtware. WebParser possesses flexible configuration and a number of additional features like the website checker, proxy checker, website analyzer, keywords generator, CAPTCHA support and many more. WebParser is a winner in the area of speed. The tool makes use of no proxy and does not need it to operate efficiently. This is quite contrary to many other products in the market that require consistently updated proxy lists.
Are you looking for one tool that gathers high quality backlink list (backlinks from google or other search engine) from search engines such as Google, Yahoo, Bing and others? Do you need a tool that gets your work done in the quickest possible time?
Search engines are plenty and varied but CyberMake's universal search engine tool demonstrates easy scrape any kind of search engine results. The product scrape URL and detects CMS type irrespective of the web development tool employed.
This SEO tool is a bonus in the subject of internet marketing. It is especially helpful for those who intend to scrape backlinks list from multiple search engines automatically. You can work with two or more search engines simultaneously with WebParser and still be assured of 100 percent results.
A SEO optimizer can determine the position of his website on different kinds of search engines with WebParser and use other useful features.
WebParser can scraping web data from all worldwideweb and make a backlinks for your website.
CyberMake's google search engine tool shoots down glitches associated with other software; the most important being excessive time consumption.
The tool detects CMS type and also allows you to append your own favorite.
WebParser - Very good Google result parser.
WebParser comes pre-configured to with a great range of CMS including WordPress, DLE, Joomla, uCoze, phpBB, Drupal, IPB, vBulletin, Yabb, 1C-Bitrix, Typo3, Amira and more.
The usage of the tool opens several benefits that enable you and your business in remarkable ways.
Use WebParser for scraping web data.
Listed below is a quick overview of features
Compatible with Windows 7, XP, 2000, 2003, including ALL Windows SERVERS and DEDICATED servers.
Allows you to enter an unlimited number of keywords to extract thousands of results from multiple search engines.
Works with Google, Yahoo, Bing, Google and Yahoo Search APIs, Metabot, Yandex and others.
Allows you to add your own desired search engines and CMS.
Scans all URLs and detects CMS type/Platform (DLE, WordPress, Joomla, uCoz, phpBB, Drupal, vBulletin, IPB, YaBB, UltimateBB, Ultimate PHP Board, 1C-Bitrix, Blogger, Typo3 and others).
Saves even more time using multi-thread mode for extracting URLs and parsing websites.
Supports unlimited number of proxy servers.
Proxy-checker determines, if a proxy server is operable.
Integration with AntiCAPTCHA for automatic input of CAPTCHA text.
AutoSave program parameters upon close of application.
Generator of keyword phrases using the date and other macro-variables.
Log search activity.
User friendly and intuitive interface.
Hides the program in the tray bar.
Customizable parsing such as parsing of domains, parsing of domains with folders (for example it helps to search for phpBB forums, because forums are located in a specific folder) and parsing of full links received from search engines.
Gathers all links from search engines with or without options to detects CMS, bypass all "dead" websites and throw up duplicates.
Adjust the depth of search, language of websites, number of links per search engine page and option to parse a page as DOM elements or as a text (for example, when searching for JSON, JavaScript or XML).
Sets up maximum response time of analyzing a website.
Supports printing of data and exporting of database to CVS, XML, TXT.
Option to export data directly to other database.
Automatic software updates and modifications to the database in one click
Scrape url backlink list
Google result parser
Extract Links from Search Engines
Comparison of Different Editions
| | | | | |
| --- | --- | --- | --- | --- |
| Functionality | Professional | Ultra | Lite | Demo |
| Save cookies for each search key phrase and each proxy | Yes | Yes | Yes | Yes |
| Silent search by search phrase | Yes | Yes | Yes | Yes |
| The option to check for no finded URLs to working capacity | Yes | Yes | Yes | Yes |
| Option to check and collect non duplicate URL's | Yes | Yes | Yes | Yes |
| Unique delay at each reference to a search engine | Yes | Yes | Yes | Yes |
| Quick collection of all Links from Search Engines without analyzing here | Yes | Yes | Yes | Yes |
| Tray-icon | Yes | Yes | Yes | Yes |
| Analysis of the list of sites from a file | Yes | Yes | Yes | Yes |
| Ignore URL duplicates | Yes | Yes | Yes | Yes |
| Auto save of parsed data | Yes | Yes | Yes | Yes |
| Status of program operations | Yes | Yes | Yes | Yes |
| Storage of program data in the Database | Yes | Yes | Yes | Yes |
| Mode of work without Database | Yes | Yes | Yes | Yes |
| Operation mode without a DB with big files | Yes | Yes | Yes | Yes |
| Import of sites from a file in a DB | Yes | Yes | Yes | Yes |
| Search from a list of key phrases | Yes | Yes | Yes | No |
| Proxy list | Yes | Yes | Yes | No |
| Auto Proxy-Checker during parsing | Yes | Yes | Yes | No |
| Proxy List Checker | Yes | Yes | Yes | No |
| Auto-deactivation of a proxy for the defined search key phrase within established time at captcha appearance | Yes | Yes | Yes | No |
| Complete emulation of human treatment to search key phrases (parsing of each of the search key phrase in over 10 flows without a proxy and without captcha) | Yes | Yes | Yes | No |
| Search foreign language sites | Yes | Yes | Yes | No |
| Fast auto-updating | Yes | Yes | Yes | No |
| Logs of last requests | Yes | Yes | Yes | No |
| Automatic collection (minimum 1300 URLs/minute) and detects CMS of all registered domains (COM, NET, ORG, RU, SU...) | Yes | Yes | Yes | No |
| Module Anti captcha (Antigate, CaptchaBot) | Yes | Yes | No | No |
| Adjustment to different Search Engines | Yes | Yes | No | No |
| Search setup of different CMS and any sites | Yes | Yes | No | No |
| Integration with Google Search API | Yes | Yes | No | No |
| Integration with Yahoo Search API | Yes | Yes | No | No |
| Usage of Meta-retrieval systems | Yes | Yes | No | No |
| Possibility of addition of any Search system | Yes | Yes | No | No |
| Possibility of adding any CMS for analysis | Yes | Yes | No | No |
| Advertizing switch-off in the program | Yes | Yes | No | No |
| Fast import of the big list of sites from a file into a DB (approximately 50,000 sites / sec) | Yes | No | No | No |
| Ignore NOINDEX / NOFOLLOW instruction of sites for spam in DLE comments (the Analysis Filter) | Yes | No | No | No |
| Price | 70$ | 50$ | 30$ | - |
Additional features included into WebParser plus SEO Edition

WebParser Plus SEO Edition

Includes the full functional WebParser Professional version

Additional SEO Tools:

Check PR in Google
Check Alexa Page Rank
Determining quantity of pages indexed by Google and other search engines
The filter of collected sites using PR (during parsing)
The filter of collected sites using Alexa Page Rank (during parsing)
The filter of sites by an amount of pages in an index (in following release)
The list of profiles for registration
Automatic registration on DLE sites
Automatic email verification on DLE sites
Automatic sending of comments to DLE sites
Ignore NOINDEX, NOFOLLOW sites in DLE comments (Filter of the analysis results)
Automatic search of non spammed news by criteria and incorporating comments in to them
Log of successful and unsuccessful SEO operations
Full registration of all comments in 1 file with link to it
Automatic collection of search keywords for DLE sites for qualitative and fast collection, which is not available in any other parsing software
WebParser is constantly being improved and expanded to support new CMS
Make high pr backlinks
Google result parser
Search engine tool

Price
100$
Additional Plugin for WebParser Plus SEO

WebParser Plus SEO JCommunity Plugin (Beta version)

Plugin that works with Joomla Community. It includes automatic registration, e-mail validation and and updating user's status as a comment in Joomla's communities.

Price
$50
Additional features included in WebParser + SQL-Injections Edition

WebParser + SQL-Injections

Includes the full functional WebParser Professional version

Search of injections using two methods:

First method: Search of SQL-injections
Second method: Search of code injections, for example PHP-injections

Price
100$
Additional functionalities included in WebParser FULL version

WebParser FULL:

Includes ALL functionality of WebParser Professional
Includes ALL functionality of WebParser + SQL-Injections
Includes ALL functionality of WebParser Plus SEO

Price
300$