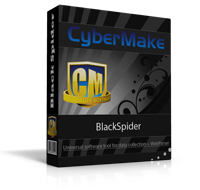 BlackSpider - Scrape Powerful software and Crawler Tools for Scraping web data. Scrape Email Address, Lead generation, Email leads for Finding New business clients
Does your data collection effort for marketing purposes seem futile or endless? Are you worried about incomplete data? Are you afraid of exhausting all your time in just data collection? How you wish you had a tool that simplified your data collection process and rendered results in no time?
Worry No further. BlackSpider is that wonder tool that allows you to harvest different kinds of data to fulfilling your marketing objectives. BlackSpider is all comprehensive software that aids marketing professionals and data collection experts by extracting phone numbers, email and contact addresses as well as extensive information about companies and organizations. The BlackSpider is a universal data collector to websites and all kinds of search engines inundating the World Wide Web.
Does your business suffer from a high quality customer database to target? Are you noticing a downward trend in your business' profitability? Are you drained out from using different software that promises to demonstrate results but fail to do so in reality?
BlackSpider helps you keep your troubles away. The software is a universal system for data collection. It enables the user to search for potential customers for the purpose of promoting your business' service offerings or products. The tool determines information about organizations, creates telephone directories and email repositories.
BlackSpider comes with an integrated WebParser. The all comprehensive WebParser Professional furthers your data collection efforts with efficient search engine parsing functionalities so that you do not have to look anywhere beyond the scope of CyberMake's products. This tool is a medium that aids advertising initiatives and enhances sales.
Besides enabling quick and effective collection of data, BlackSpider has a very simple and intuitive interface. Simplicity of operations easily makes them one of the highly sought mechanisms for data collection in the world today.
All that the user is required to do is simply type keywords to obtain pertinent information. Alternatively, a list of links can also be queued in for collecting data. You can even adjust the operations of the tool by clicking "Open WebParser" in the "Program" tab of the main menu.
Moreover, BlackSpider is compatible with most of the most commonly used operating systems including Windows 7, Vista, XP, 2003, 2000 + All Windows SERVERS (+ Dedicated).
Listed below is a set of features for quick purview
BlackSpider enables quick and efficient collection of

Phone numbers
Email and Postal Addresses
Determine and Store Information about Organizations

Search for Potential Customers
Promoting Sales and Advertising
Integrated WebParser Professional for Search Engine Parsing
Compatible with Windows 7, Vista, XP, 2003, 2000 and all Windows servers
All these and many more come alive when you experience CyberMake's BlackSpider.